March 12 – April 18, 2022
[Note from the editor: Apologies for falling behind in my duties. Julie wrote this post some time ago and it has languished here on my laptop for no good reasons. -Jeff ]
The winds were in the 25-30 knot range for the week before we sailed around the east end of Green Island (a small cay at Antigua's east end), so the seas had time to build. Jeff and I agreed that we saw the roughest sea conditions we've ever sailed just getting upwind around the bluff. We had only scraps of sail out, and buried the rail. Waves were ten to fifteen feet (actually, I think in metric when they get that big, 3-4 meters doesn't seem as bad). We were super glad to be going only 10 miles to Jumby Bay. Jumby is a very pretty harbor, but we were starting to notice that the water around Antigua was consistently cloudy. A very pretty color of blue, but not crystal clear like in St. Croix or the Virgins. Not sure why this is, possibly just the rough seas stirring it all up.
Sailing all the way around Antigua took us about two weeks before returning back to Falmouth. We tried to visit every beach, but soon gave up because Antigua claims to have 365 of them. We liked anchoring under a cliff in Dickerson Bay, the palm fringed beaches of Carlisle Bay, and I should add a special thanks to one of the most exclusive hotels on the island, l'Hermitage – they had amazingly fast free wifi off their beach. The hiking up behind Hermitage and Jolly Harbor through the Pearns Point neighborhood had remarkable views and a steep enough grade to make us a bit dizzy at the top.
We arrived back in the Falmouth Harbor, in time to welcome Peter, Lily, and Abby, who joined us for the last week of the month. After the 10+ ft seas out of Green Island, we resolved to only sail downwind with our guests, as gentlemen do. It worked out really well, with a hike up to Shirley Heights on their first night for the BBQ and Steel Drum bands. We anchored off Pidgeon Beach in Falmouth which is very charming, with access to a great hike over to English Harbor, where we checked out Nelson's Dockyard. We took them to Sue's Roti shop of course, and now they are also big roti fans ( a "roti" is a bit like a curry flavored burrito and they are commonly sold by roadside stands in the islands). Then it was on to Carlisle for more great hiking, snorkeling, and enjoying the water toys. Near the end of the week we stopped at Dickerson Bay where we met an old school friend of Lily's for dinner at a local restaurant. She's married to an Antiguan now, and they were charming hosts! We were very sorry to have to drop our guests off on the beach the next day, so they could catch a cab to the airport. We couldn't believe how fast the week went.
After a full month in Antigua, we were excited to move on to Guadeloupe. We are finally in the right orientation with respect to the constant trade winds to expect easy sailing. It took us just 7 hours on a beam reach to get to the north end of Guadeloupe. Then last few miles the winds went absolutely squirrelly, and this is to become a theme for the lee of these more southern islands. We were expecting a wind shadow, which we certainly saw, but we also saw 20 knots out of the west, and then 30 knots rushing out of the est between a gap in the mountains, all in the space of a few miles. Sailing is never boring. Oh wait. Nevermind.
Des Haies (pronounced day hay) is a tiny little town with a gorgeous botanical garden on the hill overlooking the harbor. We loved all the beautiful well labeled flora (in French, bien sur). Within the gardens we lunched at the very charming restaurant overlooking the waterfall. A flamboyance of flamingoes was a terrific surprise, as well as an aviary where dozens of lorikeets would zoom around and then pause to drink nectar from little plastic cups we held out to them. What a great day, and I didn't even mention the fresh pain au chocolat we bought warm from the boulangerie! We also enjoyed one of only a handful of moorings, much better to stay out of the anchorage where the French boaters are happy to anchor right on top of you with their tiny anchors in deep water. As we were pulling up the dinghy the last morning, a very polite guy told us he was sorry but our boat was too big for the mooring and we had to move. (True – we are 54 and they were rated for 50). Great timing!
Our next stop was short sail away. We wanted to visit the Jacques Cousteau nature reserve at Pidgeon Island. This was truly some of the most spectacular snorkeling we've done. Deep and shallow water, healthy coral, and tons of fish. Giant clouds of fish! Delightful. We were happy to discover a type of fish we haven't encountered before. There were many schools of Black Durgon, a round black fish about a foot long, with cool rippling fins along the top and bottom edge with a light blue line between the body and the fin. Their skin shimmers with iridescent blue and brown in the sunlight. Wonderful!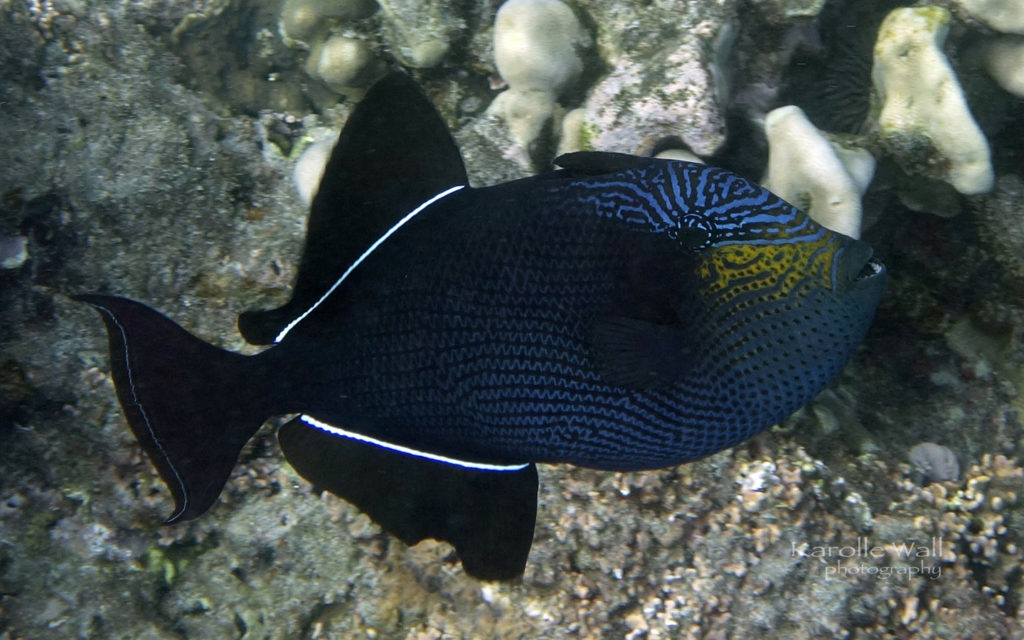 We only stayed a week in Guadeloupe, because we were starting to feel the pressure to get south to be in Grenada in time to go back for Claire's graduation. Our last stop was a little group of islands at the south western tip, Les Saintes. This was a quintessential French vacation spot. Lots of small restaurants, good bakeries, little inns, and of course lots of French charter boats. But ha! They were foiled! No one could anchor right on top of us because the use of moorings is required to protect the seabed. Genius!
We picked a mooring at Ilse Cabrit, where there was just an old fort and a nice hiking trail up to it. Back in the 70s, they used it as a disco. That would have been cool. We were able to dinghy across the bay to Terre de Haut for the boulangerie and other necessities. The perfect location. Nice breeze, no swell, no noise. Just great! But our friend Dave was waiting for us to come diving with him in Martinque, so we checked out on the 12th of April.
We set sail at 5AM the next morning. That's before sun rise, but it's a 73nm sail and we always try to arrive at a new place in daylight. We had just set our sails leaving and were Guadeloupe behind us at around 6AM. The sun was rising as we cruised along at 6 knots or so, looking forward intently to make sure we did not catch any fishing buoys this close to the island. We both saw a weird little spot of wavy white water 100 yards ahead, like a white cap, but without any others. It was just odd enough to notice, and as we both wonder what it could have been. And suddenly Jeff realizes "Whale!" I'm out on the side deck, and can see the whale surfacing right across our bow, about 10 feet away. I scream Turn! Turn!, but of course Jeff is already doing it, and the whale sees us and goes right down. In the water to port, I see the outline of his companion about 20 ft down. Jeff missed him by maybe 6 ft. He also mentioned that yelling turn, without a port or starboard attached is less than completely helpful. Fair point, but in my defense, when you are about to T-bone a humpback whale, either way is fine, as long as you turn hard. So now that the adrenaline is no longer coursing through my system, it is cool to reflect, I looked him in the eye, I saw his tail and his friend. This was one of the better whale sightings ever. I am also forced to reflect that I thought this was a one in a million type of event. Whales are smart. They don't want to to be run over. Our boat weighs every bit of 50,000 pounds, so it's a good thing for both of us that we missed. They have good hearing. We weren't exactly sneaking up on him. What gives? Was he just waking up? Needed some coffee? I have to say this encounter will be much on my mind on our next night passage. The rest of the trip to Martinique was uneventful, except the now expected swirling winds in the lee of the island. Oh, and we sailed right by the island of Dominica, because they haven't eased their COVID restrictions yet. It did look truly spectacular, so another time…
We made it to St Pierre, Martinique by 3:30 in the afternoon, so we could have slept through the whole whale sighting, and still gotten in before sunset. After careful consideration, since we didn't hit the whale, I wouldn't have changed our departure time. St Pierre was supposed to be great, but my opinion was colored by the sewer work they were doing in town. We found the boulangerie, and the covered market for veggies, and were ready to leave in a day. We headed down south to Grande Anse and met our friend Dave for some terrific SCUBA diving. The water was so clear, you could see everything. We saw a huge (like 3 ft long) old sea turtle, just gliding around us, and giant barrel sponges even bigger than the turtle. Jeff and Dave did 3 dives, and I joined for 2 of them. Two dives in one day seems to make my sinuses angry. The guys were really nice and didn't make a big deal of how much I missed. FOMO!
Now we are in Saint Anne, just outside the famous town Le Marin. There are hundreds (maybe 1000!) of boats in this gigantic anchorage. It makes places like Newport look small and empty. Unlike Antigua, we don't see any super yachts here. It's all normal boats like Renegade, except most of them are French. Today we went into Le Marin to see if we could buy a new AIS transponder because ours died back in Antigua. AIS is "automated identification system" and it's what makes Renegade track-able. Having AIS is nice for our folks at home to see where we are, but more importantly, it's a safety system that ships use to avoid collisions. It turns out it's Easter Monday and most places were closed. I'm an optimist so I climbed the stairs to the Diginav shop and the guy was there! He was so terrific. He took his time with us, said my French wasn't bad, that all his computers were down because it's a holiday. He and Jeff actually bonded over the diagnostic Jeff had already done, and how the older units are easier to fix, Garmins have especially high quality boxes that are more complex to fix, etc etc. Jeff speaks no French, but he is more than fluent in Geek Speak. That is a WONDERFUL quality in a captain!